Donald Trump Jr. has begun selling T-shirts making fun of actor Alec Baldwin for accidentally killing a cinematographer on the set of the movie Rust. The t-shirt proclaims that "Guns don't kill people, Alec Baldwin kills people" and is currently being sold on Trump Jr.'s website for a staggering $27.99 per shirt. The t-shirt was released after the 63-year-old actor, who famously portrayed Donald Trump for Saturday Night Live throughout the man's single term in the Oval Office, discharged a prop gun and accidentally killed the cinematographer on set of the new movie "Rust."
For years, Alec Baldwin has been an outspoken advocate for gun control in the United States. However, he accidentally used a gun to kill a person while using it as a prop item on a movie set. Trump Jr. decided to profit off of Baldwin's horrible mistake by selling the offensive t-shirts via an Instagram Story the other day urging followers to "get yours now."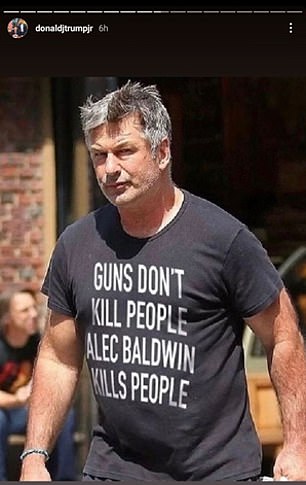 The advertisement included a Photoshopped image of Baldwin wearing the new t-shirt. In reaction to Trump Jr. selling the anti-Baldwin t-shirt, The Daily News from New York labeled the son of the former president the "Spawn of Hatin" while followers and fans of the Trumps labeled the son of the business mogul "deplorable" and willing to do "anything to make a buck."
Meanwhile, former fans of the Trumps attacked Trump Jr. for the t-shirt scandal accusing the son of the former president of being a "miserable" person for doing the "disgusting" stunt to make money off of Baldwin's tragedy.
Other Trump fans called Trump Jr. "scum" and a "repugnant" person for daring to use the cinematographer's death as a way to rake in cash from Trump supporters who were willing to look the other way as Trump Jr. tried to sell the offensive t-shirts.
For example, Fred Guttenberg, the father of Parkland school shooting victim 14-year-old Jaime Guttenberg, turned to Twitter to express his views that Trump Jr. crossed a line by releasing the offensive t-shirts.
"Someone died in this accident. She was a mother, wife, and daughter. I know how her family feels" and called Trump Jr "the scum of the earth" from a "miserable family."
He added that Trump Jr. "is clearly your father's son. Never has there been a more miserable family."
Others called the Trump Jr. stunt absolutely horrible and urged the victim's family to "sue Donald Trump Jr for every penny he's worth" for his "utterly deplorable" stunt.
However, Trump Jr. stood by his t-shirt scandal and defended his actions despite the death of Hutchins. As a believer that every American has the "right to bear arms," Trump Jr. tweeted:
"The media is in full-on panic mode to protect Baldwin from any criticism because they agree with his politics. If the shoe were on the other foot, Baldwin would be the first guy out there pissing on anyone involved, and the media would be joining him."
Baldwin described the incident as a "tragic accident." He tweeted:
"There are no words to convey my shock and sadness regarding the tragic accident that took the life of Halyna Hutchins, a wife, mother, and deeply admired colleague of ours. I'm fully cooperating with the police investigation," Baldwin wrote. "My heart is broken for her husband, their son, and all who knew and loved Halyna."