Award-winning news anchor Kristen Nicole was surprised when she received complaints from viewers about her "inappropriate dress." Take a look and see if you have a problem with what she was wearing.
Those who have a career which involves being on camera in any capacity quickly become accustomed to negative comments about their appearance, especially in an age where the internet has made anything and everything accessible to people from around the world, and social media has made it easier than ever to judge others from the anonymity of your own computer.
Indeed, this sort of scrutiny comes with the territory if you're a journalist like Kristen Nicole. However, she was still left floored when viewers complained about her baby bump. The "Good Day Chicago" news anchor, already a mother-of-one, was expecting another bundle of joy when viewers got in touch with her news station to complain that she was showing her baby bump. You would think that a successful working mom is deserving of praise, especially when she is still coming to work during the home stretch of a pregnancy, but some people always seem to have something negative to say.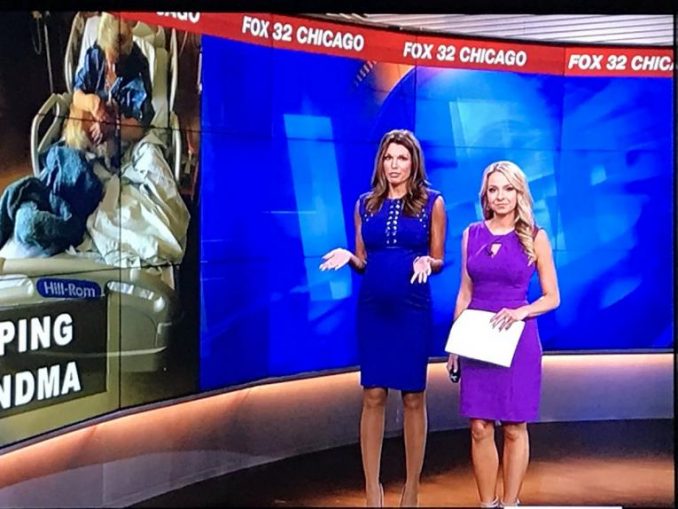 Kristen was seated behind a news desk wearing a form-fitting blue dress when viewers began complaining, according to AOL. But, she shut down the shade right away with a Facebook post, saying she wears the dress once per month and has no intention of stopping now just because of a few nay-sayers.
"LET ME SAVE YOU SOME TROUBLE," the news anchor wrote. "My email address is ***, but if you're writing to tell me that you're offended by the sight of my baby bump, don't hold your breath waiting for a response. It's not coming. I wear this dress probably once a month. No one has EVER had a problem with it. Wear it almost 8 months pregnant? Woah…disgusting, right? (insert massive eye roll)."
"To Karen, Gene and Sabrina who wrote to me today, use your time better," the journalist urged. "Pay someone a compliment. Do a good deed. To everyone else who has sent messages of congratulations and well wishes," Nicole added. "You are keeping me motivated through these last 6 weeks. We're finally in the home stretch! I have had a healthy, comfortable, stress free pregnancy. My husband, son and I are beyond excited to meet our new addition. Thank you for being a part of our journey!"
Apparently, the anchor received three emails from three separate people — Karen, Gene, and Sabrina — all complaining that she had allowed her baby bump to show in the form-fitting blue dress. One of the women even accused Kristen of wearing a fake baby bump to give her ratings a boost. Another critic complained that she didn't dress in more standard maternity wear.
After the fact, Kristen said that the negative messages were "disheartening," but she did receive a show of support from many others. Praise from fans came pouring in, congratulating Nicole on how great she looks and for how she handled the situation. "You are beautiful. Ignore those who try to make someone feel bad, because they are so insecure," commented one Facebook user.
It's hard to believe that many viewers in this day and age would actually take issue with a woman being pregnant without trying to hide their body under a tent. You're likely to see a much more revealing display by simply looking out your window as you drive down the street than what Kristen Nicole was showing in this blue dress.