A new website was launched Thursday promising the public access to some of the most personal photos taken from Hunter Biden's phone between 2008 and 2009.
The website,  www.BidenLaptopMedia.com, shows a trove of images featuring the son of President Joe Biden along with scantily-clad women who were regularly around him as he struggled with addictions to drugs, alcohol, and sex. Graphic photos have been partially blurred, as have some photos containing sensitive bank records, Social Security numbers, or other identifying materials.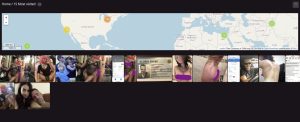 Another image shows Biden was prompted to complete a $1,200 wire transfer to one "A. Mashkivtseva," potentially the same Aleksandra Mashkivtseva who allegedly received checks in even greater amounts.
Behind the website's launch is a former aide to President Donald Trump, Garrett Ziegler, who said the public has the right to view 10,000 images that were taken from Hunter Biden's laptop following its discovery shortly before the 2020 election.
"It's taken us a couple of months to, one, go through the photos, about 10,000 of them, and redact the genitalia on the photos. The number one thing we're about… is truth and transparency," Ziegler said. "If the American people want to know what their first family is like, they're going to get it. And we're not going to be taking out photos that paint the Bidens in a good light."
Many of the photos, first shown to Fox News Digital, contain never-before-seen shots of Biden cozied up to former lovers and positioned in compromising situations. Though not all photos are intended to portray the Biden family negatively, Ziegler maintained.
"We're not Republican activists. None of us are registered Republicans," he continued. "In fact, I loved and still love Trump precisely because he wasn't a standard Republican. So this is not a hit job. We're going to keep all the photos that paint the Bidens in a good light and keep all the photos that paint the Bidens in a bad light. The American people can judge for themselves what they think about their first family through this."
The staying power of Hunter Biden's laptop is a testament to America's fascination with the troubled man who remains under federal investigation for potential tax and firearms charges. A White House deputy press secretary was implicated in its contents while whistleblowers from the IRS have come forward to claim that the Biden Justice Department is interfering with the agency's ability to conduct an investigation into business documents involving the president's son. Secretary of State Anthony Blinken, who was an advisor to President Biden's 2020 campaign, claims he did not help orchestrate an attempt by former U.S. surveillance officials to portray Hunter Biden's laptop as "Russian disinformation."